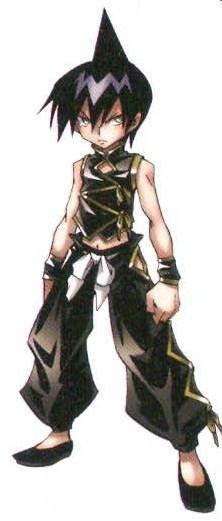 Name:
Nasude Gao
Age:
16
Gender:
Male
Sexuality:
Straight
Birthday:
05/11
Race:
Etherious
Anything Special:
He has a magical birthmark on his chest, symbolizing the mark of his family.
Personality:
You can get the chance to know him, even if you are just one minute with him. He has a very determined personality and a steel-hard mind, sometimes. His steel mind is mostly shown in battle, but when with friends, he can be slow and funny to joke with. He cares about those around him and would go beyond what it takes to make sure that they are safe. Even though that he seems very steadfast in eyesight, he easily gets embarrassed in specific ways. His feelings for his family is unsurpassed and the strong feelings for them took place, when they accepted him as he was lost; he was an Etherious and artificially made by an old sage, who sealed himself inside his own creation to guide him. Nasude wasn't really appreciated by others and that made him kind of a lone wolf, because that he was an Etherious and that people believed that all of Etherious were evil beings. But Nasude rejects evil; he will fight to the end for the sake of good.
He loves to fight; there is not anything better to do with friends than to test each other's strength. He always wants to see if he has surpassed someone by challenging them to a little battle. He is well known to NOT hold back, even against weaklings, because that he thinks that everyone deserves 100% from him. He believes that it is a kind of honorable thing, but when people hold back, he gets a bit pissed. It is like telling him indirectly "You're not that strong, mate." He would prefer that they just commented him, but holding back seems very scoffing for him. But of course, he does not want to make everyone tell him that, so he likes to train as much as possible.
Likes:
1. Fight; there aren't anything better to do with buddies and friends than fighting, testing out each other and having fun meanwhile!
2. Training; For example, when someone tells him: "Time for your special training!" he gets pumped and thinks that he will get 2 or 5 times stronger after. Training makes master!
3. E-Sage; the guy inside of him, the one who created him, is very nice to him. Nasude respects him and his powers, which are kind of gone now... or not?
Dislikes:
1. Pseuds; Seriously, pseuds are the worst kind of people. For some reason, Nasude hates them and often shows it by reacting very intimidating.
2. Bad jokes; What's a bad joke? Aren't all jokes supposed to be  funny? Isn't that why they're called "jokes"? That's one of Nasude's many unanswered questions and this one annoys him...
3. Evil; What he hates most of all is evil and he wants to defeat it, once al for all. Even if he doesn't get the chance to...
Motivations:
All of his life, he's been called a demon. He wants to show them all what kind of person that he is. He wants to show them that an Etherious can be good too; maybe even a hero.
Fears:
1. Bats; Have you tried to have a bat inside of your mouth? If not, then you're lucky.
2. Demons; He's called a demon and he's afraid of them... doesn't make sense, right? He's had a few encounters with demons; unluckily, they were pretty evil.
3. Great Highs; he was a fear of great, great highs. We're talking about sky-highs...
Height:
5 feet, 4 inches
Weight:
123 Lbs
Hair color & Style:
His hair is formed with a weird "horn" sticking out. Most of the hair is smooth and the hair-color is dark purple.
Eye Color:
Light Yellow
Skin Tone:
It's pretty light.
Physical Appearance & Clothing:
He looks kinda light pumped. His usual clothes is a yellow shirt with yellow lines, reaching down to his navel. His pants are of the same style, with a white, loose belt. He wears a pair of wrist bracers, same style as the clothes. His shoes are totally black and soft.
Guild/Council:
Dragon Heart
Guild/Council Tattoo:
On his right side of his breast, beside his other tattoo of Gao.[/center]